In the past 10 years ARGAS has operated four Land 3D crews and one Land 2D Vibroseis seismic crew, which combined have acquired over 50,000 square of seismic data in Saudi Arabia alone.
ARGAS uses the latest SercelTM technology to acquire this data. The equipment we deploy generally provides optimal productivity, with reduced downtime, low power consumption and reduced equipment weight, by as much as 20%. This enables us to reduce operating costs while enhancing productivity.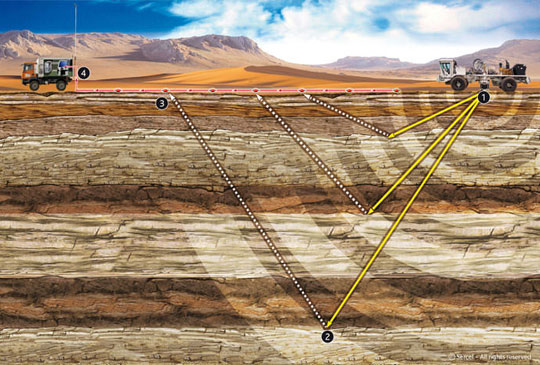 All our land crews are equipped with the latest 3D technology, including:
Sercel 508 XT acquisition systems with over 40,000 channels with capability for expansion to 200,000+ channels. This technology balances real-time data acquisition and autonomous modes, and can perform in any land environment
Sercel 428 XL acquisition systems with over 120,000 channels. Offering high performance results, this system provides us with the high channel counts and the layout flexibility needed for the operations
Sercel SG10 geophones – over 150,000 strings. These sensors have very low distortion levels, as well as the highest tilt tolerance in the industry, in temperatures o-40°C to +70°C.
Sercel Nomad 65 Neo Vibrators – we currently have 60 vibrators that can deliver enhanced low frequency content with full drive achieved at only 5.4Hz, coupled with 15% lower fuel consumption
Sercel Nomad 65 Vibrators – we currently have 38 of these units on our crews
Vehicle fleets of over 200 light and 100 heavy vehicles all equipped with vehicle tracking, driver monitoring, and speed limiting technology
RECENT LAND
DATA ACHIEVEMENTS
In early 2016, ARGAS reached a new milestone with the first large-scale deployment of Sercel's new generation 508XT land seismic acquisition system. We were the first seismic contractor in the world to acquire one million VPs using this system.
To achieve this, our land crew operated 12 fleets of two Sercel Nomad 65 Neo all-terrain broadband vibrators using the Distance-Separated Simultaneous Slip-Sweep (DS4) vibroseis source method. To record the data, we deployed 38,000 channels and 40,000 sensors with a 150 square kilometer active spread.